We manage the rental of your second home when you can not do it.
High
Performance
Maximization of performance thanks to an adequate pricing strategy.
Visibility
Maximized visibility on the most popular online holiday rental channels like Airbnb and HomeAway.
Ease
If something breaks or stops working, we manage its maintenance without additional management costs.
Your second home in safe hands
How does it work?
You tell us all about your second home in Costa Blanca.
From there we will quickly help you prepare to start receiving your first guests and will create your spotless ads in several languages on the most popular vacational rental platforms, such as Airbnb and HomeAway.
Your reservations start coming through
We will manage the communication with your guests, make sure that everything is ready for their check-in and will welcome them in person. We will also take care of solving maintenance problems if they arise.
You start receiving your rent!
We will charge you our commission automatically a few days after you receive the rent.
All made with love for your guests
Our services
Your stand-out listings
We create your stand-out listings across the most popular channels, complete with professional photography and copywrite in 3 languages (English, French and Spanish).
Superior guest hospitality
We are available 24/7 for your guests, making sure every stay is a wonderful experience.
Superior housekeeping and linen
We make sure that your guests find your home, your bed and bath linen impeccable.
End-to-en maintenance
We track all maintenance issues and advise you on how to fix them.
In person guest verification checks
We manage all guest bookings and communication, including in-person government ID checks to ensure only the nicests of guests stay at your home.
Optimal price management
Regular pricing review for revenue maximization.
Maximize your income and get outstanding reviews.
Make the most of your second home on the Costa Blanca when you don't use it.
Increase your income by renting your second home in the province of Alicante with Moonkey, without complications, while making your guests happy.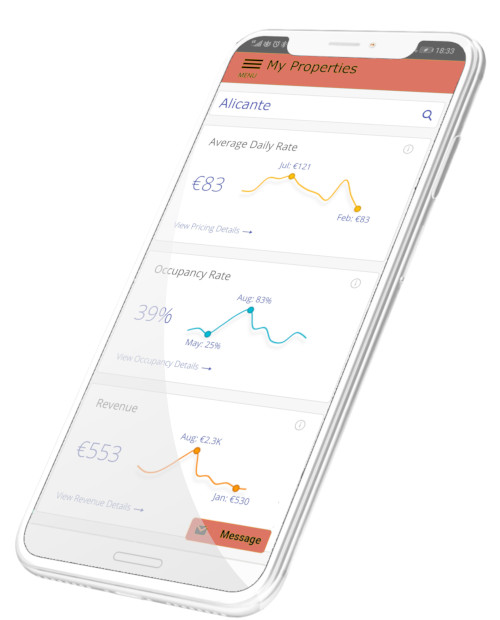 1605
Sucessfully managed bookings
Great people for awesome results
Patricia
Guest's relations
Happy guests are the reason to exist of our clients. Offering them the best service is our priority, understanding their tastes and behaviors is our job, surprising them with unique experiences is our duty.
``We see our clients as the guests of a party in which we are the hosts. Our job is to make the customer experience a little better every day.`` Jeff Bezos, CEO of Amazon.